Yesterday we learned that general manager Garth Snow believes "in the players in that room." Today, the players in that room – prospects and veterans, everyone to a man – tell Point Blank they believe in Scott Gordon and his style of play.
Here are just a few of their opinions on the head coach, what he preaches and how he teaches.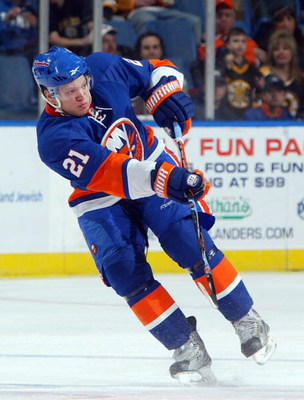 Kyle Okposo: "Scott has been the biggest reason for my development at the NHL level. He has put in a lot of time with me, making suggestions on how I could be more effective and use my talents. He has put me in every position to succeed and has given me so much guidance.
"As a team, we're all looking forward to growing with Scott and his staff. We need some time, but we're going to be all right in the end."
Doug Weight: "Our problems are definitely not about Scott and his system. It should always be about the players performing, not the coach. All that talk about our system (in the media and on the web) has gotten ridiculous at times. Plenty of teams are winning with either variations of what we play or basically the same exact style. This is a players' league.
"The difference between us and other teams playing aggressively is, we've had to play the perfect game and so far we haven't. Pittsburgh plays a similar style but can get away with it if they have a bad period, maybe even two. We played an incredible game in Boston for 50 minutes and lost. That's how crazy our start has been. We have to stick to it. We definitely have to cut down on our turnovers. We all have to play better, and that starts with me.
"I see Scott communicating even better than he did in his first year. He makes a point of sitting down with everyone and explaining his moves and giving us the chance to give feedback. Our team is as prepared as any team I've been with. Let's be honest – we just need a damn win and then we'll be okay. Scott believes in his system and we believe in him and everything he's trying to preach."
Matt Moulson: "If anyone's looking for someone to say anything other than praise for Scott Gordon, I'm the last person to go to. He's the reason I'm here and I'm going to do everything I can for that guy.
"I don't know how to explain it, but he gives you confidence without even saying much. He demands your best while not breathing down your neck.
"After our last exhibition game, he told me I was going to be staying with the Islanders. Scott said something I'm never going to forget. He said, 'I want to be honest with you and tell you you're going to be here, but you should treat every game like it's your last.' That's what I've done and that's what I'll do as long as I'm here. By putting me on a top line and with players like John (Tavares), Scott is giving me every chance. I'm going to take what he gives me and run with it."
Jack Hillen: "Scott's been great with me, and this is coming from someone who has sat out some games. I have no compliants. I think I'm playing a lot better this year and it's because of Scott and Dean Chynoweth and Scott Allen. They've helped me so much with video before and after games.
"We're far from the only team playing an aggressive style. We just have to get out of this – get the first win, eventually string a few together. I know we will. I'm telling you, the reason we're not winning is not Scott Gordon."
Martin Biron: "Every system is designed to give your team an edge. This is the style Scott believes in and he's right for doing so. When our young players develop, when the top guys like John Tavares and Kyle Okposo and Josh Bailey really take off, and we put it all together as a team, it will be worth all the time and effort put into excelling at this aggressive style.
"Scott has implemented a high-tempo, intense system that demands a high level of concentration and recognition of what's happening on the ice at all times. In the end, it will make our forwards and D better players and will make us a better team. It's wrong when I hear people say this style cannot work. There are probably at least a dozen teams playing something similar.
"I understand – we're all Monday morning quarterbacks. I watch the NFL games and say stuff like, 'Maybe they should play a 3-4.' That's part of the fun. In hockey, everyone talks about a 1-2-2 and all that stuff. I get that. We just need to execute. We don't have the luxury yet of having a bad period and then watching Joe Thornton, Patrick Marleau and Dany Heatley take over.
"Scott is giving us the tools to be successful. The staff does a great job going over the game plan and making adjustments between periods. It's the turnovers that are killing us. That's up to us as players to correct."
John Tavares: "Scott has been really good for me since the first day. He has given me so much confidence and had me ready to be at my best with these first games of my career.
"The communication has been open and positive. We spend a lot of time on the ice at practice and after with video going over ways for me to improve. He's given me a lot of constructive criticism but also the freedom to be creative offensively. Scott wants us to be a good skating team and be aggressive. In the long run, that's going to make us a better team. It's a very good style of play for me. I love it."
*
Point Blank Take: The above is a fair representation of all the conversations I had with Islanders players over the last 24 hours. With the option - off the record - to decline to publicly support the coach, no one did. Here's my opinion.
Over the last decade, I've seen a lot of smart hockey coaches suddenly get dumb in the eyes of fans and media when they came to the Islanders. Plenty others were written off as non-entities. The obvious examples are Peter Laviolette and Dan Bylsma, now the owners of Stanley Cup rings. Then there are quiet examples like Jeff Jackson and Greg Cronin, who came and went as assistants and now run powerhouse NCAA programs at Notre Dame and Northeastern.
Brian Burke was on TV last week, explaining Gordon's addition to the staff of the U.S. Olympic team. He expressed total awe over Gordon's teams in Providence and hailed his performance so far with Ron Wilson in the Olympic program. Burke didn't mention the Islanders. He knows the body of work is too young, knows almost nothing was done to improve the 30th place team besides adding the gift of Tavares. Burke also knows it might not be fair to judge Gordon on his Islanders work. What coach since Al Arbour has left the Islanders with his reputation intact?
This is the vicious cycle of coaching the Islanders and the reason why an experienced coach like Joel Quenneville made a lame excuse to not even come in for an interview. The Islanders' lineup currently falls short of the required 20 players by anywhere from 4-7 legitimate NHLers. Don't know what I mean? Identify the Islanders forwards and defensemen you believe are at the bottom of the NHL depth chart. Now ask yourself if they would crack the lineup of any of the teams in the Islanders' division. Ask yourself if it's even close.
Or how about last year, when Gordon walked into his first NHL coaching job and was given Ted Nolan's friends as his assistants? That worked out so well, Gerard Gallant "stepped down to become a consultant to the general manager" before camp started. (This being the Islanders, with their unique spins on the truth because few are paying attention, Gallant was never seen again.) That worked out so well, neither John Chabot or Dan Lacroix were brought back after their contracts expired in the summer. Just as it's the coach's responsibility to put his players in position to succeed, the Islanders should do the same for their coaches.
No one is saying Scott Gordon is the next great NHL head coach. Hopefully he'll get the chance to prove what he is under the right circumstances here, instead of with his next organization.
I just want to be on record saying I'm not interested in being part of the chorus leading the latest formerly-smart and successful coach out of Islanders Country. I'm not going to take the bait and make him the next convenient fall guy for a franchise that hasn't gotten much right for a very long time.
Let's see if, as he did for his players, Garth Snow stands up for his coach in 3...2...1...
Comments on this story. Comment Guidelines.