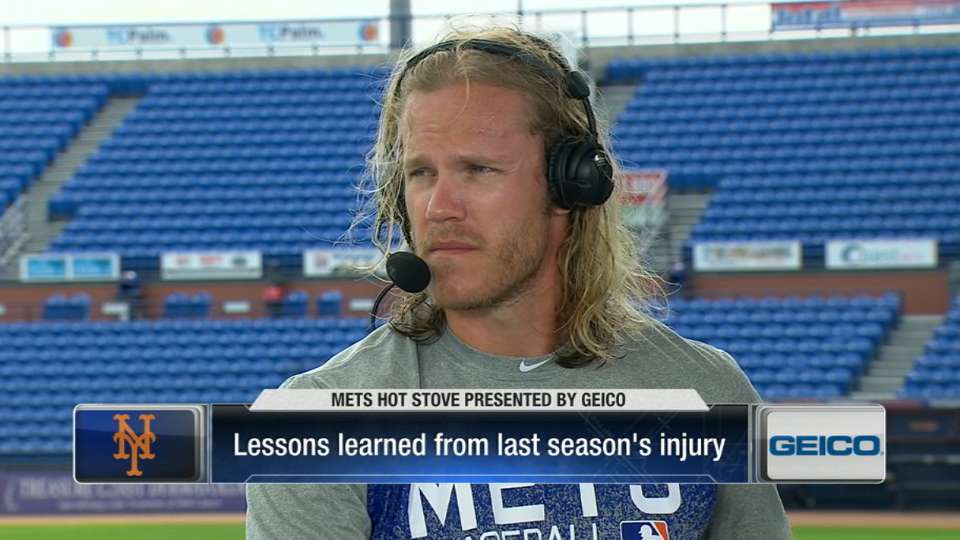 Noah Syndergaard is impressed by the passion of new pitching coach Dave Eiland, specifically how he emphasizes owning the inside part of the plate.
"One of my attributes I use in pitching is being able to establish the inside part of the plate," Syndergaard said Tuesday night on Mets Hot Stove on SNY. "That's something he advocates quite a bit. Just listening to him talk about throwing inside kind of just fires him up, which fires me up on the inside as well."
---
---
---
Syndergaard threw live batting practice Wednesday with Eiland standing behind him, giving input the entire time. In one instance, after repeated pushing from Eiland to throw inside, Syndergaard hit a stand-in minor leaguer on the front forearm.
---
---
"It happens," I could hear Eiland say to Syndergaard, who looked concerned for the teammate.
Syndergaard, who missed the majority of last season due to a torn lat, had a 2.97 ERA and 1.05 WHIP with 34 strikeouts and three walks in 30 1/3 innings (seven starts) in 2017.
Eiland was also pressing Syndergaard to throw more off-speed pitches, which is a strategy new manager Mickey Callaway is pushing upon all his pitchers this spring.
---
---
"If my fastball command is not the greatest, but I've got a good breaking ball, I'll probably be throwing more breaking balls," Syndergaard told SNY.
It seemed like Eiland was nudging Syndergaard to get more on top of the ball by using a slightly higher leg raise during his delivery, which often allows a pitcher's hand to be in a more appropriate throwing position at the point his front foot hits the dirt.
---
---
Syndergaard looked uncomfortable with this adjustment, even though it's the safer and healthier way to throw a baseball. In either case, whatever they were doing was working, because Syndergaard had zero problem keeping what looked like a two-seam fastball below the batter's knees each time it was thrown.
The best part of the throwing session, though, was how Syndergaard left the field by golf cart, helping him skip over the 1,500-foot walk from the field he was on to the clubhouse.
---
---
Matthew Cerrone (Facebook | Twitter | Instagram | Contact) is lead writer of MetsBlog.com, which he created in 2003. He also hosts the MetsBlog Podcast, which you can subscribe to here. His new book, The New York Mets Fans' Bucket List, details 44 things every Mets fan should experience during their lifetime. To check it out, click here!