On this date in 1998, while working the service desk at Home Depot, I answered an urgent phone call from my mother, who, as a Mets fan herself, was eager to tell me the Mets traded for "that pizza guy," as she called him.
I laughed, knowing full well she meant Mike Piazza, who never would have become the legend he is in Queens had the Dodgers never turned their backs on his contract request.
Piazza wanted at least $91 million during his Spring Training negotiations with the Dodgers in early 1998. They never offered more than $84 million, Piazza rejected it, and Los Angeles began floating his name in trade talks with interested teams. The Mets were among several teams to show interest...
In what was a major shock to the baseball world, Piazza was eventually traded to the Marlins, who were 15 games below .500, in last place, and in the process of dismantling their team - not rebuilding it - after a World Series run the year before.
---
---
Meanwhile, the Mets had the National League's worst winning percentage from 1993 to 1996. However, after hiring Bobby Valentine in 1997, they surprised Mets fans by winning 88 games and chasing the Wild Card deep in to September. Immediately after winning the World Series, the Marlins began trading off their most expensive players, including sending pitchers Al Leiter and Dennis Cook to the Mets.
The next season, when the Marlins acquired Piazza with the intent of flipping him for prospects, it made sense for them to call the Mets since they knew New York had interest in Piazza, and both organizations were already very familiar with one another's farm system.
"Piazza was a marquee-type guy and we needed that type of player," then-GM Steve Phillips told me in 2015 about the decision to pursue Piazza. "We were a good little team, but we needed to get a superstar. At the same time, we know from previous discussions that the Marlins liked our top outfield prospect, Preston Wilson, as well as some of our young pitching talent."
The opportunity for the Mets to acquire Piazza was in place, the prospects needed were available, Phillips and his front office were ready to make a deal, and the team's fans were hungry for something to get done. Finally, eight days after leaving Los Angeles for Miami, the Marlins traded Piazza to the Mets for Preston Wilson, and pitching prospects Geoff Geotz and Ed Yarnall.
"I think we invented the chest bump," Phillips told me about his reaction after completing the deal. "It was so exciting, especially knowing we were about to make an announcement that was going to rock New York City."
Pizza was selected by the Dodgers with their last pick during the 1988 MLB Amateur Draft mostly because his dad, Vince, lobbied his friend, Dodgers manager Tommy Lasorda, to draft him.
"The Dodgers didn't want him," Lasorda told USA TODAY Sports during July 2016 interview. "Nobody wanted him. I kept telling our guys, 'I want him drafted.'"
---
---
According to Lasorda, because he was viewed as a 'courtesy pick,' the Dodgers had no intention of keeping him, though they were impressed with his ability to hit. However, when Lasorda said Piazza had experience being a catcher, the Dodgers signed him to their basic $15,000 contract.
The only problem was that Piazza had never been a catcher. Lasorda made it up, knowing it was the only way his team would give his friend's son a chance. At the advice of the legendary manager, Piazza caught a flight to the Dominican Republic, where, at 20 years old and the first American player to ever be in camp, he worked out at the organization's training facility to learn how to be a backstop.
"You have no idea what this kid went through," Lasorda told USA Today. "The Dodgers never wanted him. They held it against him because of my relationship with him. They wanted to break him."
The next summer at Single-A Vero Beach in Florida, Piazza struggled behind the plate and considered quitting baseball after being in countless confrontations with the team's coaching staff, most of whom resented his relationship with Lasorda.
"It was a difficult time, but it helped get me to where I needed to be," Piazza told me during an interview at Tradition Field in 2016. "It made me stronger, mentally and physically, and it taught me how to be patient."
Piazza made his major league debut in 1992. The next season, he made the All-Star team as a catcher and won the National League's Rookie of the Year award as a catcher, four years after first putting a mask on.
By 1997, he was widely considered the best hitting catcher in baseball, and now on his way to being the greatest hitting catcher of all time. He hit .362 that season, with 40 home runs and 124 RBI, while finishing second in voting for the NL Most Valuable Player Award.
It would be his last full year in Dodger blue.
---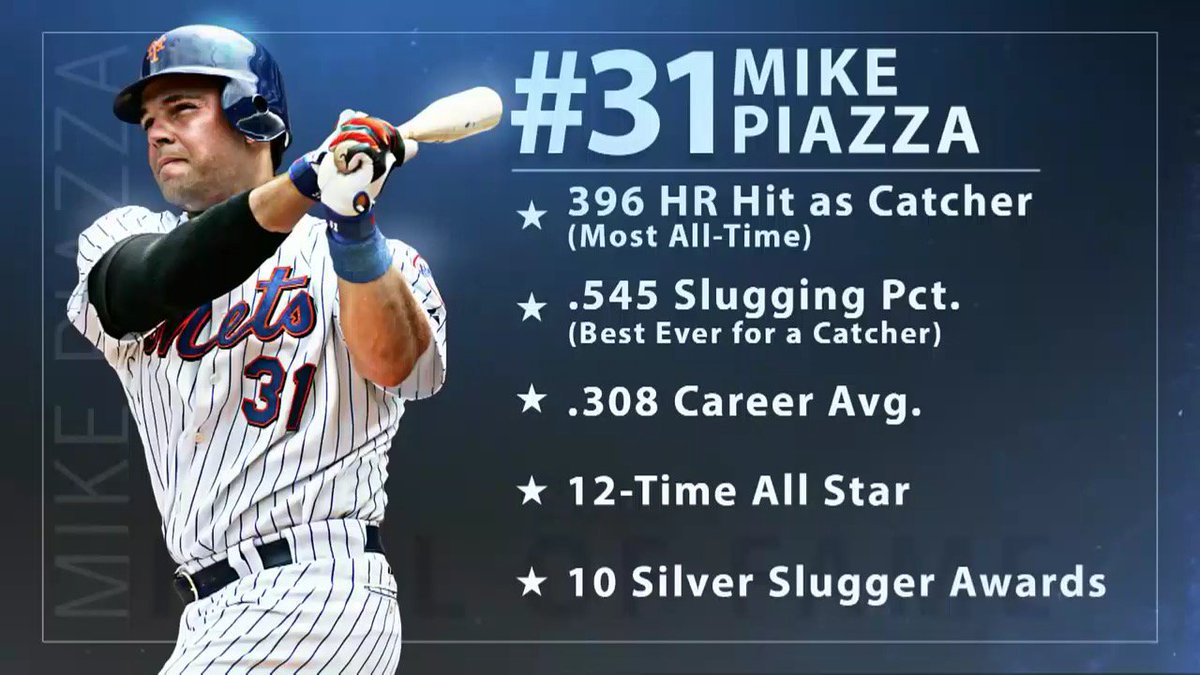 ---
Given how he entered baseball at the bottom and had to work his way to the top, it seemed only fitting that Piazza would get a chance to perform on the world's largest stage...
In his first game with the Mets -- May 23, 1998 -- Piazza hit an RBI double through the right-center field gap. It gave the Mets a 2-0 lead as they went on to defeat the Brewers, 3-0.
"I'm on cloud nine right now, but I need some sleep," Piazza told New York reporters after his first game, which was totally understandable considering his three-team, four-city tour during the previous eight days.
Piazza immediately began hitting with the Mets, though it took him time to find his power stroke at Shea Stadium. He was frequently booed in June and early July for struggling at home, and not hitting in the clutch. However, after announcing that he wanted to postpone contract talks with the Mets until after the season, Pizza got hot at the plate in August and never looked back.
"It was a little stressful for a while," Phillips admitted to me about the early going of Piazza's time in a Mets uniform. "But, once it clicked, and when the fans accepted Piazza, it became everything we thought it could be."
In his 106 games, Piazza hit .348 with a .419 OBP, 23 home runs, 33 doubles and 76 RBI. Unfortunately, despite a spike in attendance, the Mets actually played slightly worse baseball than they did before Piazza was acquired, and ended up missing the postseason by just 1.5 games.
The season ended with no postseason and Piazza eligible to be a free agent, which left Mets fans and all of baseball to wonder whether his time in New York would be reduced to just four months.
"It had been going so well and the way we hoped it would, and so we felt there was a chance we could bring him back," Phillips told me, though he admitted to also being nervous in advance of restarting negotiations.
---
---
Thankfully, it took just four days for the two sides to agree to a seven-year, $91 million deal, which was $1 million more than his reported ask of the Dodgers six months earlier. The deal also included a limited no-trade clause making it - at the time - the most lucrative contract ever given to a baseball player.
''This tells the fans that we appreciate the fact that they came back to watch us play after we acquired Mike,'' Mets co-owner Nelson Doubleday said the day the deal was announced. ''They wanted a marquee player, we needed a marquee player and we got them a marquee player.''
The Mets became Piazza's team in 1999, during which the franchise returned to the postseason for the first time in 11 years. The Mets would get back to the postseason in 2000, marking the first ever back-to-back postseason appearances in franchise history. In 2000, he and the Mets won the National League pennant and advanced to the World Series to face the crosstown rival Yankees, who were in the midst of a dynastic run of Championships.
The Mets struggled in the years after losing to the Yankees in the World Series, during which Piazza's production dropped as his injuries started to rise. Sadly, on Oct. 2, 2005, Piazza played his final game with the Mets, as it was reported that he and the team planned to part ways after the season. During the game, Mets manager Willie Randolph replaced Piazza after the eighth inning so the 47,718 fans in Shea Stadium could give their catcher one last cheer.
Piazza bowed toward the stands, waved and then slowly jogged down the dugout steps.
"They never should have traded him," Lasorda told USA Today Sports in 2015, when asked if he regrets seeing Piazza leave Los Angeles. "They made the biggest mistake of their lives. But look who got the last laugh, and now the rest is history."
---
---
In 2013, the Mets inducted Piazza into their Hall of Fame. And in 2016, after finally being elected to the Baseball Hall of Fame with their hat on, the Mets made him just their second player (along with Tom Seaver) to have his number retired.
In the end, Piazza played 16 years, half of which for the Mets, and most all of them behind the plate. He hit .308 for his career, made the All-Star team 12 times and - thanks to a smart deal 21 years ago today - he made countless people - myself included - proud to be Mets fans.
---
Matthew Cerrone (Facebook | Twitter | Instagram | Contact) is lead writer of MetsBlog.com, which he created in 2003. He also hosts the MetsBlog Podcast, which you can subscribe to here. His new book, The New York Mets Fans' Bucket List, details 44 things every Mets fan should experience during their lifetime. To check it out, click here!